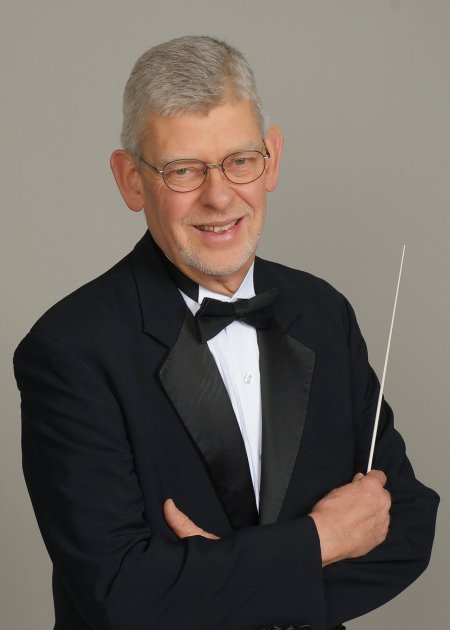 Gerald Gipson
Inducted in 2018
Gerald "Jerry" Gipson received his Bachelor of Music Education and Master of Music Education from the University of Missouri - Kansas City Conservatory of Music where he studied percussion with Charmaine Asher Wiley. He studied advanced conducting with David Worthington, UMKC, and Dr. Craig Fuchs, Pittsburg State University. Jerry is a founding member of the Kansas John Philip Sousa Junior Honor Band and served on the Executive Committee from 2003-2016. He has served as both the Middle Level Band Chair and Middle Level Orchestra Chair for the Northeast Kansas Music Educators Association.

Jerry began his teaching career at Nallwood Junior High School in Shawnee Mission in January of 1973. With personalized communication and the formation of the Nallwood Area Band Festival, Jerry was able to make significant increases in enrollment and a third band was added to the program. The Nallwood Symphonic Band performed at the KMEA In- Service Workshop in 1977, 1979, and 1981.

In 1981, Jerry moved to Olathe North High School followed by a six-year assignment at Arrowhead Middle School in Kansas City. In 1991, he moved to Oxford Middle School in Blue Valley where he taught until his retirement in 2017. At Oxford, Jerry increased overall band enrollment from 140 to well over 200. Jerry, along with Jim Leacox, started a summer band program and he taught in the summer program for fifteen years. The Oxford Eighth Grade Symphonic Band performed at the KMEA In-Service Workshop in 1996, 2004, 2006, and 2009.

In addition to his school assignments, Jerry served as a co-conductor of the Olathe Area Youth Symphony for nine seasons and guest conductor at the Midwestern Music Camp for seven summer sessions. He continued to be active as substitute teacher, clinician, guest conductor and adjudicator.

Former student and fellow teacher, Steve Adams says: Mr. Gipson was an exceptional mentor—I wanted to be just like him. As I was leaving Jazz Band practice one day during my ninth grade year, Mr. Gipson patted me on the shoulder and said, "Someday you will make a fine band director." My path was set that afternoon. He couldn't have known at the time, but he changed a boy's life that day.

Colleague and mentor Dr. Martin Bergee says: Jerry is one of the finest teachers I've ever known. A nurturer and developer who always has the interests of students at heart, he's nothing less than superb with middle-schoolers, who don't often permit themselves to be easy to work with. At the same time, his personal musicianship and his skill at cultivating musicianship in youths are unparalleled.

Fellow teacher and retired Deputy Superintendent of Blue Valley, Dr. Al Hanna says: In both Shawnee Mission and Blue Valley, no other band program could match the consistent quality that Jerry produced. His bands performed literature worthy of a higher-level band and they performed it well. If you look in the dictionary under the words "middle school band director", it will show a picture of Jerry Gipson. He is the measuring stick.

Fellow teacher John Selzer says: I will never forget the words he said to me in one of our earliest conversations when we were discussing our teaching philosophies. He said, "I just can't suffer mediocrity." How wonderfully Jerry. I can't even describe what this meant to our program, not just in terms of retention, but in terms of the way our incoming freshman class already viewed playing in band. They felt they were participating in a worthwhile and dignified endeavor. Nothing could be more important than that and Jerry knew it.